All Your Chest & Respiratory Needs at One Place
Polysomnography, also called a sleep study, is a comprehensive test used to diagnose sleep disorders. Polysomnography records your brain waves, the oxygen level in your blood, heart rate and breathing, as well as eye and leg movements during the study.
Pulmonary function tests (PFTs) are noninvasive tests that show how well the lungs are working. The tests measure lung volume, capacity, rates of flow, and gas exchange. This information can help your healthcare provider diagnose and decide the treatment of certain lung disorders.
Bronchoscopy is a procedure that lets doctors look at your lungs and air passages. It's usually performed by a doctor who specializes in lung disorders (a pulmonologist). During bronchoscopy, a thin tube (bronchoscope) is passed through your nose or mouth, down your throat and into your lungs.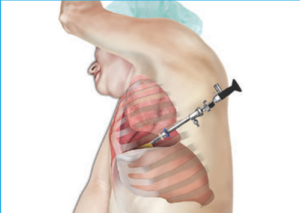 Thoracoscopy is a procedure a doctor uses to look at the space inside the chest (outside of the lungs). This is done with a thoracoscope, a thin, flexible tube with a light and a small video camera on the end. The tube is put in through a small cut made near the lower end of the shoulder blade between the ribs. Thoracoscopy is sometimes done as part of a VATS procedure, which is short for video assisted thoracic surgery.
The 6 Minute Walk Test is a sub-maximal exercise test used to assess aerobic capacity and endurance. The distance covered over a time of 6 minutes is used as the outcome by which to compare changes in performance capacity.
Simply give us a call and book an appointment for yourself. We are here to help. Walk into our clinic and let us take a closer look to suggest the best treatment you need.